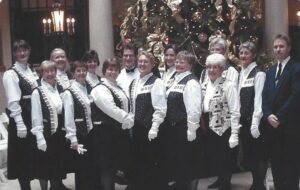 Come celebrate our 20th anniversary at a concert featuring 'the best' of 20 years of Chicago Bronze repertoire at the First Congregational Church of West Dundee on Saturday, May 11 at 4pm! Some of the highlights of our 20 years together…
Chicago Bronze was founded in May of 1999 by members of a handbell class taught at Harper College by Shirley Hipwell. (See list of charter members on back page of this history.) Charter member Karen Baumann loaned her two octaves of bells for the group's use. An anonymous loan provided funds to purchase three more octaves, allowing for the group to begin playing with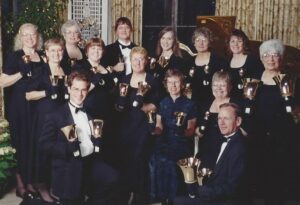 five octaves of bells. David Wiebers directed the group during that formative year, from their first job in October of 1999 (a wedding) through performances at a nursing home, Elk's Club, a school and several churches. Some of these performances were the entire ensemble, while many were played by sextets formed from CB members.
In the fall of 2000, Noreen Klemens took over as director. The next year included performances in Long Grove, at the Cuneo Mansion, with the West Towns Chorus the Palatine Children's Chorus, and in the lobby before an Elgin Symphony concert. Under her direction, CB performed its first full-length concert, in June of 2001.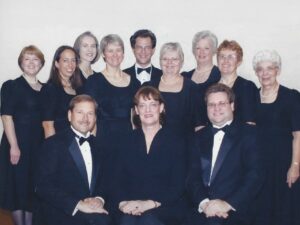 In 2001, Cathi Swanson took over as director. Her tenure included perfor- mances in Long Grove, Elgin, Ft. Sheridan, Mt. Prospect Park District, Rolling Meadows, South Park Church in Park Ridge, the Elk Grove Library, Lutheran General Hospital, Elgin, and three churches in Arlington Heights. CB also produced its first CD under Cathi's direction. In 2003, Karen Baumann moved (taking her bells with her!), and CB bought its own 2 octaves to replace the borrowed bells. And in the August of 2004, Cathi left as director to pursue a graduate degree in music from Western Illinois.
In the fall of 2004, Phil Roberts became director of Chicago Bronze, bringing with him 30 years of handbell experience, and numerous published handbell works. During his years with us, CB had the opportunity to record the new handbell music published by GIA for their demo CDs. Performances included repeated appearances at the Elgin Symphony concerts, St. Martha's Church and Ela Library, as well as some interesting new venues: an airport hangar concert, an appearance on the WGN morning show, the Art Institute, an out- door wedding where a sudden thunderstorm soaked the bells and table pads.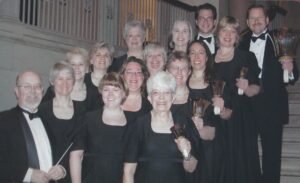 In 2010, Scott Laudick served as the interim director of Chicago Bronze from January through the end of the season. Then, in August of 2010, Andrea Handley became the fifth director of Chi- cago Bronze, bringing 33 years of handbell directing experience to the group. In the past 9 years, CB has played collaborative concerts with three major choral groups in the Chicago area – Youth Choral Theatre, North Shore Choral Society, and New Traditions Chorus. We have played a feature concert at a regional convention for the Handbell Musicians of America, and have been featured in numerous concert series in the Chicago area: St. John's Lutheran Church in Lombard, First Presbyterian Church of Deerfield, and Fourth Pres- byterian Church. We have flash mobbed through downtown Chicago (at Macy's, the German Christmas market, and Ogilvie train station), and at Woodfield Mall and Ikea. We have been featured on the CBS evening news. And we have performed concerts from Oak Lawn to Belvidere, from Wilmette to Lake Forest, from Milwaukee to Madison, WI. We have also acquired nearly an entire octave of low bass bells, one-by-one!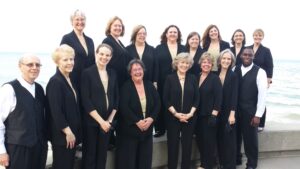 Chicago Bronze has built up some big numbers, from our combined 300+ years of ringing experience, to our combined 600+ miles of commuting to rehearsal each week, to our 6000+ combined commuting miles to the concerts we've performed in the past year. We've had much change in the past 20 years. We've said goodbye to numerous members, welcomed many new members, and have had several directors. But the one thing that has not changed is our commitment to the art of handbell ringing, and our vision of taking the art of excellent handbell ringing to people throughout the Chicago area.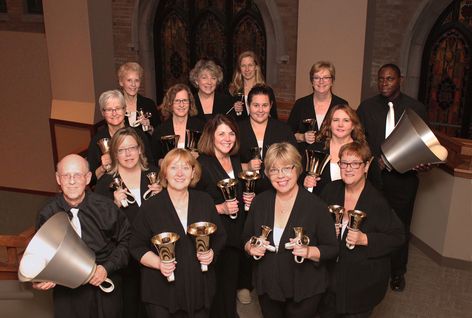 Front row: Bill Ondratschek, Michele Harbeck Haley, Laura Olsen
Row 2: Cynthia Seputis, Denise Caliendo, Martha Swanson
Row 3: Kathy Murray, Jayne Griese, Angie Chiesa, Amy Calderone
Row 4: Cheryl Ondratschek, Andrea Handley (director), Kelly Buckman, Anne Kivikko, Derrick Sanders.
Charter members:
Barb Barrett
Karen Baumann
Roberta Dickey
Lisa Folkers (Gutzler)
Lois Gotha
Denise Kinsey (Caliendo)
Carolyn Ohman
Diane Oster
Joey Pacay
Kay Rotramel
Fred Snyder
Cathi Swanson
Donna Walker
Former members:
Kjel Hanson
Linda Lunt
Scott Ahlgrim
Marion Talley
Joanne Nick
Cathe Morse
Karen Johnson
Kathe Cunningham
Eileen Swanson
Ben Hafner
Jenn Bundy
Drew Brown
Briana Belding-Peck
Jenn Engelke Jalin Hsu
Directors:
David Wiebers Sept 1999-June 2000
Noreen Klemens 2000-2001
Cathi Swanson 2001-2004
Phil Roberts 2004-2010
Scott Laudick 2010-2010
Andrea Handley 2010-present